Much like the food pyramid, when working with exceptional highly compensated clients, layering is key to a healthy Guaranteed Standard Issue (GSI) plan. Group long-term disability insurance has become an expected benefit offering for professionals for decades, which makes up the base layer in the GSI pyramid. A group policy typically offers the insured party 60% of their base pay to a maximum of roughly $15,000 per month. This covers $300,000 of annual income. However, if the highly paid C-Suite or partners are earning $1,000,000 plus and suddenly become disabled, 80% of their monthly income is lost when just the group plan is in-force.
The second layer to the GSI pyramid is supplemental individual disability insurance. This second domestic layer can provide significant discounts, medical underwriting concessions, and can increase disability income protection to a combined $30,000 per month. This brings the protection up to those earning $600,000 of annual income. The second layer softens the compensation blow for our top earners, but there is still a gap of exposed income.
Download Global Law Firm Case Study
For a company's highest-earning individuals there is an excess disability income product found in the excess and surplus lines market, like Lloyd's of London. This top layer of the GSI pyramid is designed to deliver up to an additional $100,000 per month of disability income insurance.
Below is an illustration of an individual earning $1,000,000 annually and how all three layers create a comprehensive disability plan.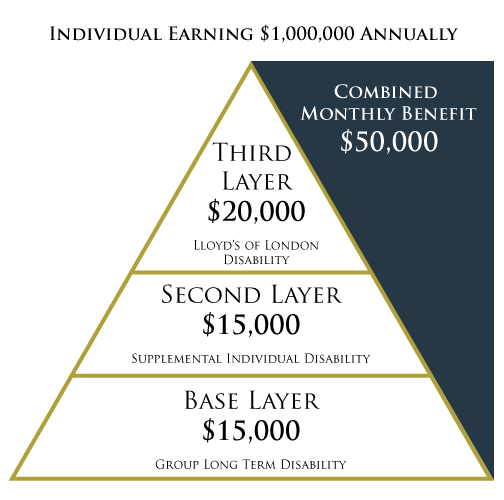 If you want to look sophisticated and have the highest level of participation in a plan, you'll need a basic education of the product and a trusted partner in this space. To further your education, here are our frequently asked questions in this space. At Exceptional Risk Advisors, we have developed an online enrollment, education and communication strategy to help expedite the enrollment process, eliminate errors and boost participation rate.
To learn more about the different types of GSI programs and the online enrollment process, please watch our 30-minute webinar.