In today's world, group long-term disability insurance has become an expected benefit offering for professionals. It has been around for decades, it has become highly commoditized and there are many carriers that offer it. The challenge for highly compensated individuals earning seven figures isn't a lack of group insurance, the challenge is underinsurance. When approaching your highly compensated client groups, start off by asking what do they own that is not insured or is underinsured?
Most likely it's nothing! The ability to earn an income is an employees biggest asset and the exposure is only compounded when a group of employees are earning $1M+ annually. You wouldn't insure 30% of your home, but if your client is earning $1M+ annually and only has a Group LTD plan of $15,000/month they have an enormous exposure to their future income.
While Group LTD and Supplemental IDI are the best options for the foundation of a comprehensive Disability Insurance Plan, domestic insurance carriers have limited upper issue limits that preclude them from covering the most highly compensated of an employer. Luckily there are options through the excess disability income markets, such as Lloyd's of London. Through the excess DI market, Guaranteed Standard Issue disability is designed to deliver up to an additional $100,000 per month of disability income insurance and is used to cover the canyon-wide chasm between a high-powered executive's two primary layers of disability insurance and his/her income, protecting his/her family's lifestyle and future earning potential in the event a of a disability.
Download our article, "Benefit Equalization for the Highly Compensated," as seen in the Employee Benefit Adviser magazine
Employers often overlook the significant future income exposure their high earning employees bear in the event they are disabled. The diagram below details the Total Income Exposure that remains for a 50-year-old earning $1,000,000 annually who maintains $15,000/month of Group LTD and $10,000/month of Supplemental Individual Disability Income - a fairly robust plan!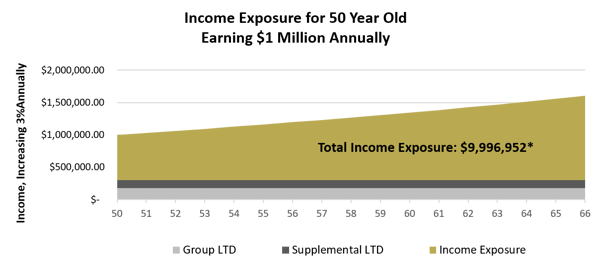 However, those employees in the group making $1M annually have an almost $10M income exposure (even with group LTD and supplemental IDI plans in place).
The advantages of enrolling a GSI plan are vast. To highlight a few, the simple one page application has two actively at work questions, medical underwriting is NOT required and rates are discounted because the policy is purchased through the employer.
If you like to learn more about the Guaranteed Standard Issue disability product, we are hosting a webinar event next week! During this 30-minute webinar, Laura Muka, Partner & COO at Exceptional Risk Advisors and Jade Beebe, GSI Operations Manager at Exceptional Risk Advisors, will answer our top 5 frequently asked questions on GSI programs for highly compensated groups, how our advisors find success in this arena, PLUS case studies to help illustrate the impact GSI programs can have on your practice overtime.