From a buyer's perspective, applying for an excess and surplus disability insurance policy is handled by their advisor. To understand how the application process works with a coverholder, here is The Life of an Excess & Surplus Disability Policy, how we as a Lloyd's coverholder handle an insurance policy from quoting coverage, all the way through the delivery of the contract: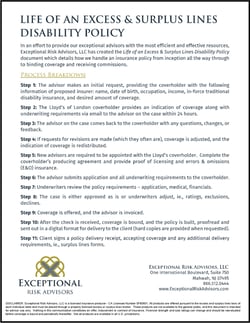 Step 1: The advisor makes an initial request, providing the coverholder with the following information of proposed insurer: name, date of birth, occupation, income, in-force traditional disability insurance, and desired amount of coverage.
Step 2: The Lloyd's of London coverholder provides an indication of coverage along with underwriting requirements via email to the advisor on the case within 24 hours.
Step 3: The advisor on the case comes back to the coverholder with any questions, changes, or feedback.
Step 4: If requests for revisions are made (which they often are), coverage is adjusted and the indication of coverage is redistributed.
Step 5: New advisors are required to be appointed with the Lloyd's coverholder. Complete the coverholder's producing agreement and provide proof of licensing and errors & omissions (E&O) insurance.
Step 6: The advisor submits application and all underwriting requirements to the coverholder.
Step 7: Underwriters review the policy requirements – application, medical, financials.
Step 8: The case is either approved as is or underwriters adjust, ie., ratings, exclusions, declines.
Step 9: Coverage is offered and the advisor is invoiced.
Step 10: After the check is received, coverage is bound and the policy is built, proofread and sent out in a digital format for delivery to the client (hard copies are provided when requested).
Step 11: Client signs a policy delivery receipt, accepting coverage and any additional delivery requirements, ie., surplus lines forms.